Brunswick The Popular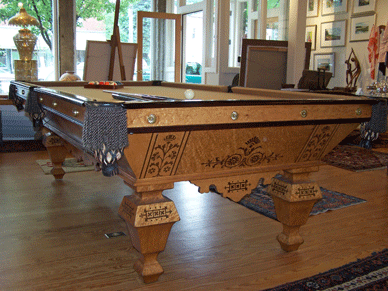 Brunswick "The Popular" model, circa 1895. Bird's eye maple with inlaid rosewood, 9' long, has 4 separate pieces of slate.
The Popular has long retained a prominent position in all billiard rooms, and in each and every part of its construction is perfect in all particulars.
The legs, besides being joined with wooden dowels, are fastened with a large iron bolt passing through the entire length of the leg to the top of the head block, thus ensuring positive solidity.
A stunning table in wonderful condition.
$