Ming Dynasty Chinese Wedding Bed with Covered Porch (Alcove Bed)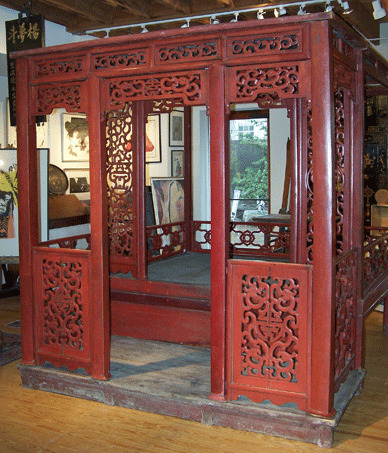 17th Century Chinese red lacquer wedding bed. Incredible condition, complete and original, with no replacement pieces or restoration. We believe this Alcove Bed is from the city of Suzhou (a wealthy port city North of Shanghai). A handful of these beds are known to have been made in the 17th century. The bed measures 8' 6" tall, 8' 5" deep, and 7' 3" wide. Included in these dimensions are the porch, which by itself measures 2' 10 1/2" deep and 7' 3" wide. This bed accommodates a queen-sized mattress.
An exceptional form (an alcove bed, babu chuang) and exceptionally rare quality, this 17th Century red lacquer bed, probably lacquered southern elm (jumu), is from Jiangsu province. Jiangsu is situated in mid-coast China. We know of only five such red lacquered alcove beds. They were a status symbol and made for the wealthy Mandarin class of scholar officials. Red was an auspicious color and the beds, usually made for newlyweds, were also an expression of hope for a male child, who would continue the family name and tradition as well as care for his parents in their old age. The scale of such beds ensured that they commanded an ample, imposing environment. The open, fluid latticework served to enclose the occupants, yet allow for an airy sense of expansiveness.
Very few of the beds, whether in lacquered or un-lacquered wood, survived, as they contradicted the ideas of peasant equality as espoused by the early Communist regime. There is an example pictured in Robert Ellsworth's book on Chinese Furniture. There is also an extensive description of the alcove bed, with photos and a copy of a print, along with photos of an accompanying clothes rack, which can be found on pages 84-89 of the book Friends of the House: Furniture from China's Towns and Villages by Nancy Berliner and Sarah Handler for an exhibition that took place at The Peabody Essex Museum. Page 25 of the book even illustrates a Chinese bed hook in use in a photo. There is also a Chinese auction guide that pictures an alcove bed that brought $65,000. It was, however, black lacquer. And we know of one other for about $65,000, also not red.
This is a splendid, rare example that can be pinned down to a time (17th Century) and a place (Jiangsu province) as is the one exhibited at The Peabody Essex.
Circa 1680.
$16,500