Sendai Isho kasane Tansu dansu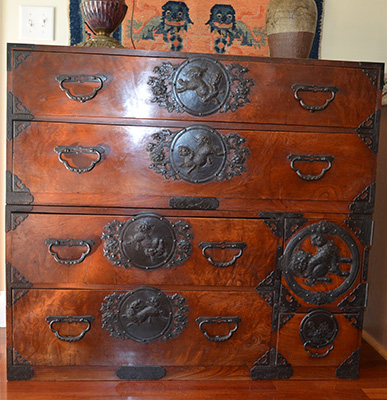 The clothing (isho dansu) chests from the town of Sendai in northeast Japan remain one of the most distinctive and readily identifiable tansu.
Dating: early Showa (1926-1989), this is circa 1940-1950, this chest-on-chest tansu was acquired in post-war Japan by United States Army Brigadier General Archibald W. Lyon during the late 1940's.
Woods: Keyaki (Japanese elm or zelkova serrata) is used for the drawer/door faces finished with a red kijiro lacquer which highlights the wonderful grain of this wood. The carcase or cabinet box is sugi or cedar and finished with fuki urushi, a light general use (wiped lacquer) coating.
Measurements: 18" deep, 43" wide, 39" high
Our thanks to David Jackson, co-author of the book "Japanese Cabinetry, the Art & Craft of Tansu" Gibbs Smith 2003, for his dating and description of this wonderful piece.
$4,950