Sendai Isho yaro Tansu dansu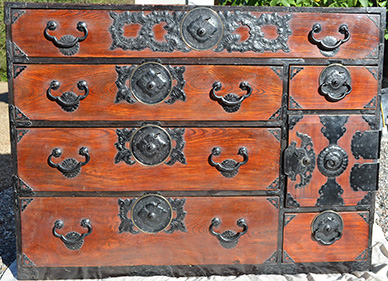 The clothing (isho dansu) chests from the town of Sendai in northeast Japan remain one of the most distinctive and readily identifiable tansu. This piece was acquired in post-war Japan by United States Army Brigadier General Archibald W. Lyon during the late 1940's.
Dating: Taisho (1912-1926), this is Circa 1915-1920, this style chest with the arabesque/floral embossing and incised lock plates started production in 1880.
Woods: Keyaki (Japanese elm or zelkova serrata) is used for the drawer/door faces finished with a red kijiro lacquer which highlights the wonderful grain of this wood. The carcase or cabinet box is sugi or cedar and finished with fuki urushi, a light general use (wiped lacquer) coating. Some fading on top.
Measurements: 16 3/4" deep, 46" wide, 34 1/2" high
Our thanks to David Jackson, co-author of the book "Japanese Cabinetry, the Art & Craft of Tansu" Gibbs Smith 2003, for his dating and description of this wonderful piece.
$3,950