Tiffany & Co. Sterling Flatware Richelieu Pattern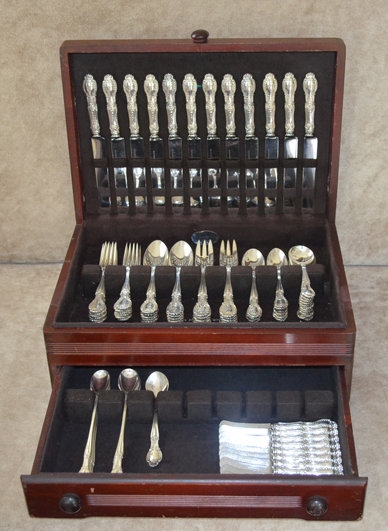 Patented in 1892, 'Richelieu' is a lovely pattern designed by Paulding Farnham, Tiffany's chief designer of that period. Twelve place settings of 8 pieces plus a sugar spoon. Lacking one butter knife. There is a total of 96 pieces overall, including the sugar spoon. All of the pieces are monogrammed with a "B" with the exception of the teaspoons and the sugar spoon. This set includes:
12 dinner knives
12 forks
12 salad forks
12 tablespoons
12 teaspoons
12 soup spoons
12 iced tea spoons
11 butter knives
1 sugar spoon
The pieces are all marked "Tiffany & Co., Sterling, Pat. 1892. T"
The knife blades are all marked "Tiffany & Co."
This set is in excellent condition, showing very little wear if any and comes with a wooden box as shown in the photos.
$Price on Request